Certification/Accreditations
Mr. Jules Aib is a fully accredited martial-arts Sports Coach, recognised under the National Coaching Accreditation Scheme (NCAS), administered by the Australian Sports Commission (ASC). The qualification is recognized by Sport and Recreation Australia (SRTA) under the authority of the Australian National Training Authority (ANTA) and is also recognized by the Service Industry Skills Council (SISC). He also holds a Senior First Aid qualification issued under the authority of the Victorian Qualifications Authority, recognised within the National Qualifications Framework.
He has studied martial-arts and Eastern philosophy for over 45 years, the last 30 of which have been devoted to Aikido. He has also undertaken an intensive study of yoga under the private tuition of a modern master, Javad Khansalar, in Bangalore, India over a number of years. After returning to Australia in 1997, he founded World Aikido-Yoga (W.A.Y), a non-profit organisation dedicated to researching, teaching and developing the art of Aikido-Yoga, and established the World Aikido-Yoga headquarters in Elwood, Melbourne, Australia. He returns to India regularly to progress his knowledge of Yoga and teach Aikido-Yoga.
He is the founder and Chief Instructor of World Aikido-Yoga (WAY) and is also the founder and managing trustee of the Aikido Takemusu Federation of India (ATFI). Both of these non-profit, charitable organisations are dedicated to teaching and developing the art of Aikido-Yoga and actively support underprivileged children's education programs in India and Australia.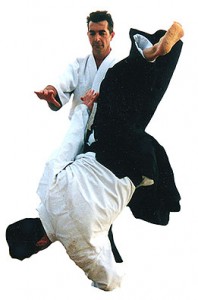 As managing director of International I.T Management Consulting Pty. Ltd. Mr. Aib has also developed highly successful experiential learning programs that combine elite performance business skills with Aikido-Yoga principles. He offers individuals, corporate executives and companies customised human and business effectiveness programs, and has been awarded an Associate Fellowship by the Australian Institute of Management (AIM).
For over 45 years, Jules has been committed to achieving excellence in the fields of martial arts and human potential development and has helped a wide variety of people from all over the world achieve health, vitality and personal empowerment. [ Refer Testimonials ]